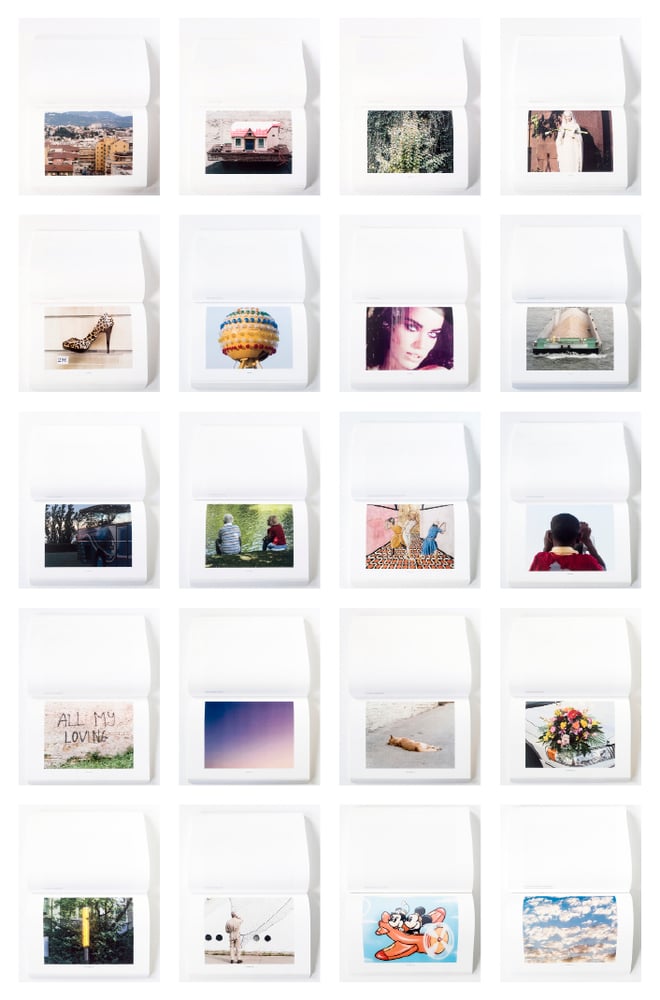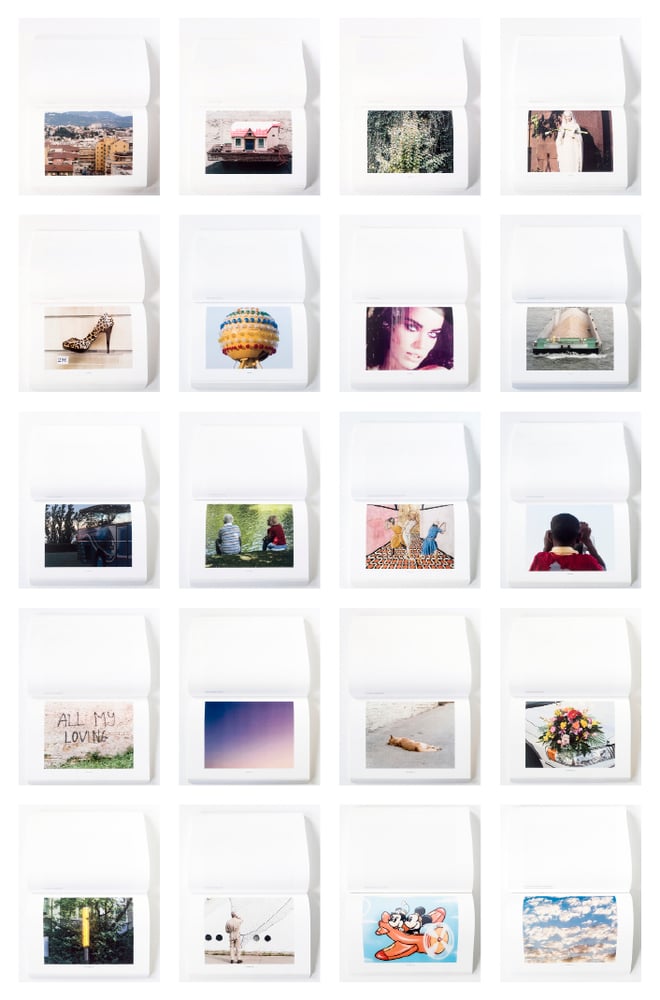 D'AUTRES JOURS / ON OTHER DAYS
€125.00
Scroll down for English
D'AUTRES JOURS est un projet éditorial conçu pour la plateforme de microblog Tumblr. Il a été mené quotidiennement durant deux ans, du 1er janvier 2014 au 31 décembre 2015. Il est toujours en ligne, à l'adresse :
http://pierrelinrenie-dautresjours.tumblr.com
Il s'agit d'un almanach rétrospectif : chaque jour, était publiée une photographie prise le même jour au cours de l'une des dix (en 2014) ou onze (en 2015) années précédentes.
Les photographies proviennent de la collection que j'ai formée depuis 2004, par une pratique régulière d'enregistrement direct et descriptif dans l'espace public, avec une grande variété de sujets.
Les 730 billets postés durant ces deux années sont aujourd'hui rassemblés en deux volumes imprimés, un pour chaque année. L'ouvrage se présente au format calendrier (ouverture vers le haut). Les pages du bas accueillent la photographie du jour ; celles du haut, une légende bilingue français-anglais, mentionnant également le lieu et la date de prise de vue.
• 2 volumes 21 x 29,7 cm, 734 pages chacun, dos carré-collé, couverture brillante.
• 1 cahier 21 x 29,7 cm, 36 pages, agrafé ; textes de Marie Muraciole, « Transports (PRIÈRE DE TOUCHER) », et Pierre Dourthe, « Une exploration commune. Le temps construit dans les livres de Pierre-Lin Renié » ; catalogue des livres et imprimés de Pierre-Lin Renié, 2011-2019.
PUBLICATION PRÉVUE POUR FIN 2019.
80 EXEMPLAIRES.
TARIF PRÉFÉRENTIEL JUSQU'AU 30 NOVEMBRE : 125 € (150 € APRÈS)
LES EXEMPLAIRES DE SOUSCRIPTION SERONT ENRICHIS DE PLUSIEURS INSERTS EXCLUSIFS !
+ ÉDITION SPÉCIALE DE 7 EXEMPLAIRES NUMÉROTÉS DE 1 À 7 ET SIGNÉS, AVEC UN TIRAGE (ME CONTACTER)
ON OTHER DAYS was originally conceived for electronic publication on Tumblr. It lasted two years (1st of January 2014 to 31 December 2015).It is still online: http://pierrelinrenie-dautresjours.tumblr.com
It amounts to a retrospective calendar wherein each day is represented by a photograph taken on the same day during one of the ten (in 2014) or eleven (in 2015) previous years.
The photographs come from the collection I have been making since 2004, through a quasi-daily practice of recording pictures in the public space, in a direct and straight-forward way, and with a vast array of subjects.
The 730 posts published on Tumblr are now gathered in book form: two printed volumes, one for each year. They are conceived as calendars, opening from bottom to top. The photo of the day is on the bottom page; a bilingual caption (French-English), complete with date and location, is on the top page.
• 2 volumes 21 x 29,7 cm, 734 pages each, perfect bound, glossy cover.
• 1 pamphlet 21 x 29,7 cm, 36 pages, saddle-stitched. It comprises two essays, one by Marie Muraciole, "Transports (PLEASE TOUCH)", and one by Pierre Dourthe "A Common Exploration. Constructed Time in Pierre-Lin Renié's Books", plus the complete catalogue of Pierre-Lin Renié's books and printed matter, 2011-2019.
PUBLICATION SCHEDULED FOR THE END OF 2019. 80 COPIES.
PRE-ORDERS MADE BEFORE 30 NOVEMBER GET A SPECIAL PRICE: €125 ($150 AFTER).
EACH PRE-ORDER WILL COME WITH EXCLUSIVE INSERTS!
+ COLLECTORS EDITION, 7 SIGNED AND NUMBERED COPIES WITH A PRINT (PLEASE CONTACT ME)